Preserving the Luster and Beauty of Your Sculpture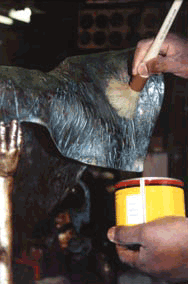 Clean and wax your bronze sculpture one time per year if indoors, and one to two times per year if outdoors. If your piece is outdoors by the sea, clean and wax the piece three to four times per year. If you need to do it more often or less often, you'll know.
Wash dust and debris from the piece with a mild detergent (Joy dish washing detergent is fine) or a conservator's soap and a sponge. If your piece has felt on the bottom of the stone, be careful not to get it wet.
Rinse the soap thoroughly from the piece and wipe dry with a clean cloth or let it sun dry completely. as you do not want to trap any moisture under the wax.
Using a round, natural bristle brush, or a simple chip brush, and a side to side motion, apply a thin layer of wax, buffing after it is nearly dry. Rennaisance Wax, Butcher's Wax or Trewax, a pure carnuba wax, may be used. An everyday shoe buffing brush may be used but be sure it is a natural bristle brush. Repeat with a second layer of wax. If the wax dries thoroughly, it will be difficult to buff out and will leave a white residue. Some areas are bound to dry before you get to them. For this and hard to reach areas, buff with a firm toothbrush, or use a common hand-held propane torch to melt the hardened wax a bit. Keep the drying time in mind for larger sculptures. You may want to start with one section, move to another, and then return to the first area for buffing, and so forth.
If your piece is an outdoor sculpture, repeat steps three and four for two coats of wax. One coat of wax is sufficient for indoor pieces.
Bring the piece up to a brilliant shine by polishing it with a soft, clean rag. It is hard to get the same shine simply by buffing, as the buffing brush eventually becomes laden with wax.
It is best to work on a warm, sunny day. The warmth will help to keep the wax soft. The sun will help dry the wax, and warms the metal, allowing the wax to sink into the surface pores. Waxing is extremely important for the protection of your bronze. Water is the #1 damaging element to bronze and it is necessary to replenish the protective wax coating to avoid water damage. Many people never wax their bronzes, but if you do, your work of art will stay gorgeous!
Though the patina will change and your bronze will darken over time, this is the nature of the material. Regular waxing will preserve the lustrous finish for many years to come and help protect your bronze from the elements, especially moisture.
Note: Trewax brand wax is a pure carnuba wax and can be purchased or ordered through any Ace Hardware store along with Butcher's Wax.
Materials List
Joy detergent
Firm toothbrush
Small propane tank and striker
Wax
Clean rags
Source of running water
Chip brushes
Natural bristle shoe brush