A Biography of
Kristen Visbal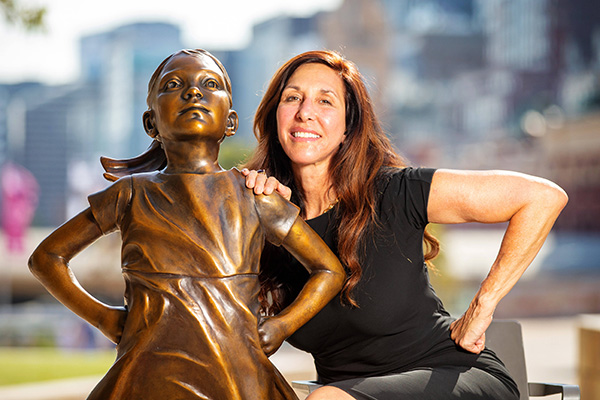 Kristen Visbal was born daughter to an American Foreign Service diplomat and a painter. The bronze sculptor was raised in the United States, attending the University of Arizona in Tucson and, in 1995, earning a Bachelor of Arts, summa cum laude, from Salisbury State University in Salisbury, MD.
Visbal studied the process of lost wax casting or cire perdue from 1995-1998 at the prestigious Johnson Atelier Art Foundry in Mercerville, New Jersey, world renowned for their apprentice program. There, Visbal apprenticed in mold making, patina and wax chasing, and taught a mold workshop. Visbal lives on the Eastern Shore of Delaware where she has managed her clay modeling studio since 1998.
Migrating to art from a career in the hotel industry with Omni Hotels' Washington, DC Regional Sales Office, Visbal worked with the large community of National Association meeting planners based in Washington, DC. She coordinated a city-wide blood drive and was treasurer of the Society of Government Meeting Planners.
Kristen Visbal has numerous notable marine life and historical public works, including her Cradle of Coaches collection of ten larger-than-life Hall Of Fame football coaches located at Miami University's Yager Football Stadium in Oxford, Ohio. The collection includes such noteworthy coaches as Notre Dame's Ara Parseghian and the Baltimore Ravens' John Harbaugh.
Most well-known is the Fearless Girl sculpture, inspiring the empowerment of women worldwide and symbolizing the call for gender diversity in leadership. The 50-inch bronze child was installed in March 2017 in celebration of International Women's Day and currently stands at the New York City Stock Exchange. The work has been awarded the rare classification of permanence in the city. The story of Fearless Girl earned four Grand Prix and 18 Lions at the Cannes Film Festival. The success of the project was enhanced by Visbal's use of motion and her ability to capture emotion in portraiture.
Kristen Visbal's work has been exhibited at the Lincoln Center, The Pen and Brush Club, the National Sculpture Society, and the National Arts Club in New York City as well as the Symposium for the Preservation and Biology of Sea Turtles in Orlando, Florida. Visbal remains a member of the National Sculpture Society and continues to promote the messages behind the Fearless Girl sculpture.